Our route will take us over the Mangaweka viaducts which are among the tallest viaducts in the North Island, with views seldom matched in New Zealand.  You can see the picturesque Rangitikei River below you as it flows pass the high sandstone cliffs.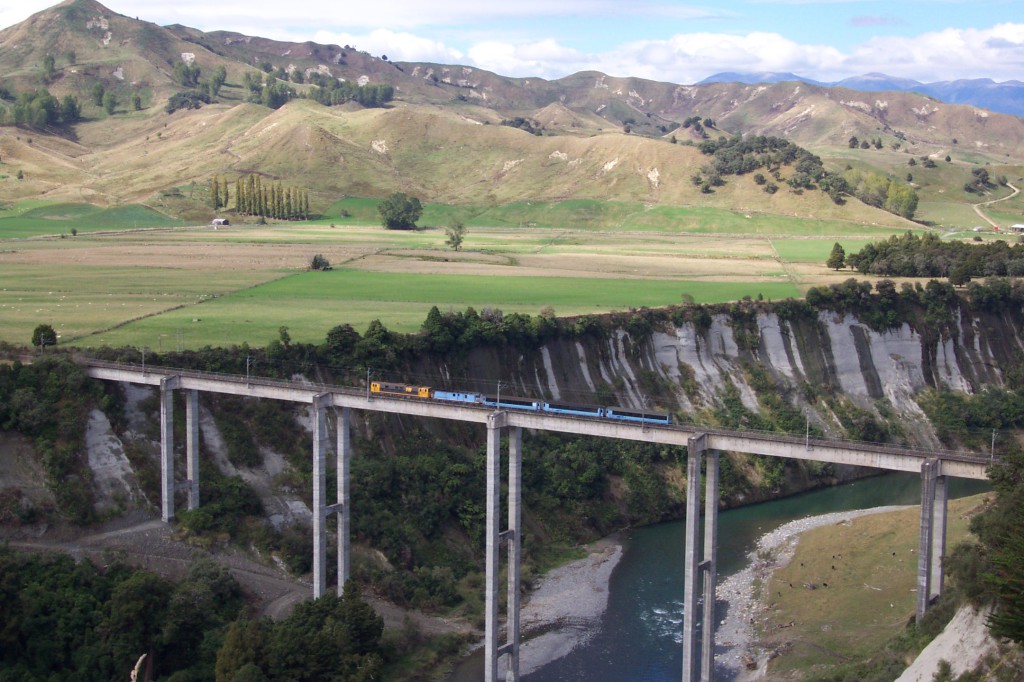 Leaving National Park we then travel down one of the rail wonders of the world, the Raurimu Spiral. This magnificently engineered piece of railway, steeped in history with stories of how an engineer with courage, foresight and a brilliant ability overcame one of the
most challenging railway engineering assignments of the last century.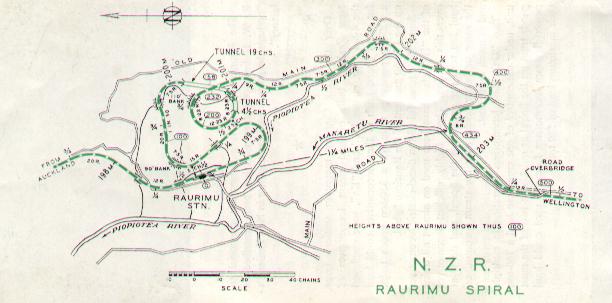 Descending the Raurimu Spiral we speed on to our final destination, "Taumarunui on the Main Trunk Line".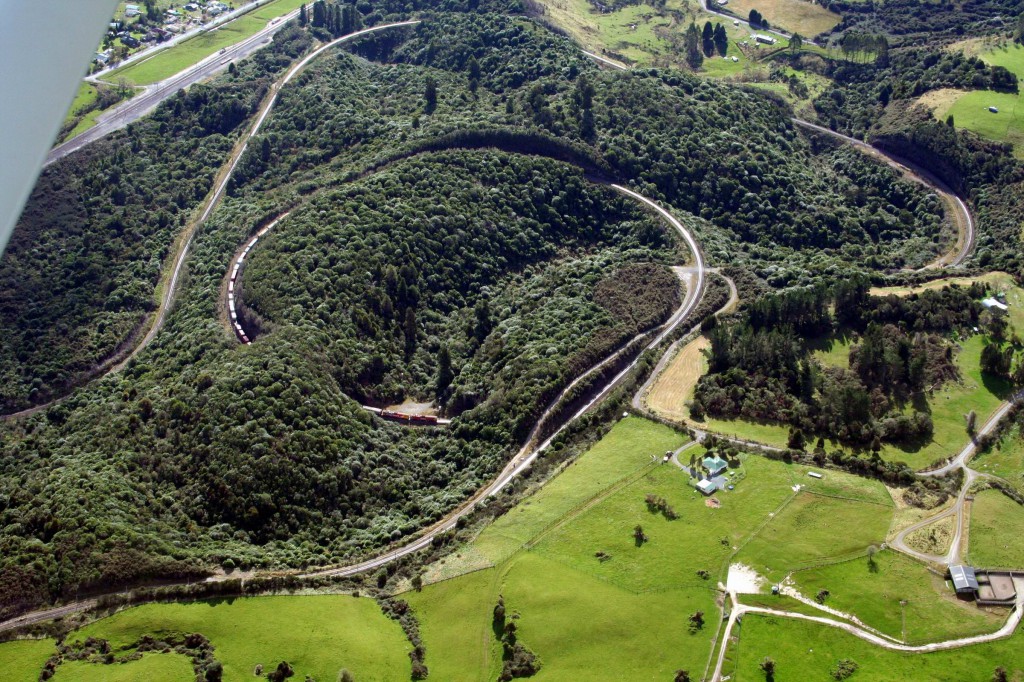 Raurimu – Photo taken by Jenny Scott
We arrive at Taumarunui for our lunch, served with large pieces of nostalgia. It will be very like the fare served in the Taumarunui refreshment rooms when the Auckland Express pulled in many years ago.
Taumarunui Hot Lunch One
Peas, carrots, pie, mashed spud and gravy
Roast beef, potatoes, kumara, pumpkin, peas, Yorkshire Pudding and gravy
Tea, coffee and large chunks of fruit cake will wash down your lunch.
You may then wish to visit the railway museum (on the platform) and wander down memory lane before it's "All aboard!" for our return journey to friendly Feilding.
The trip will be hauled by a KiwiRail diesel locomotive.
| | |
| --- | --- |
| When | Saturday 4th May 2019 |
| Depart Feilding | 8.00 am |
| Depart Marton | 8.35 am |
| Arrive Taumarunui | 12.40 pm |
| | |
| Depart Taumarunui | 2.40 pm |
| Arrive Marton | 7.55 pm |
| Arrive Feilding | 8.30 pm |
The Marton Railway Station is at the end of Station Road East, which comes off Wellington Street which is the main road in Marton. There is very limited but adequate parking at the station as KiwiRail have blocked vehicle access to the platform.   There is no security at the Marton Railway station, so please ensure there is nothing of interest to thieves in your car.  This link might help.
For additional information phone  06 3235444  or email Rod@steamrail.org.nz
You must read and understand the terms and conditions.  Click here to view the terms and conditions.
If this trip does not work for you then join our friends email list, please add your email to our list,  by clicking here.  We will send you an email each time a new trip is ready to be booked.
Once you book you will receive an automatic reply. If you do not receive a reply within an hour, check your SPAM folder and then
rebook.
Tickets will be Emailed the Friday before the trip.  Make sure your email address is correctly entered.
If you are unable to book online, drop into the Palmerston North, Woodville, Masterton, Whanganui, Hawera, Stratford  i-SITEs or
Dannevirke, Feilding  Info Centres. They can book you there, but an additional booking fee applies.

Bookings
This trip is fully booked.