A Day in The Bay by Train 2022
We depart Palmerston North and wind our way through the picturesque Manawatu Gorge, currently only accessible by rail to Woodvile.  Then on to Dannevirke, before crossing the Takapau plains to Waipukurau and then on across the Heretaunga plains, through Hastings and on to our destination, Napier.
On arrival you can choose one of two sightseeing tours, see below, or you may like to stroll casually into Napier to enjoy one of their many high class cafes, admire the Art Deco or visit the magnificent
"Aquarium of New Zealand"
Bus Tour 1  –   $80
2 hour tour
Art Deco Napier
Marine Parade
Celestial Compass
Waitangi Park
Tukituki River valley
Bus Tour 2   –   $50
1.5 hour tour
Art Deco Napier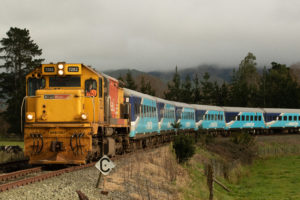 Our train will be licensed, allowing you a glass of wine or beer on your journey. No BYO. We also have a small range of food for sale on the train.
The trip will be hauled by a KiwiRail diesel locomotive.
ON BOARD MENU
Food and drinks are available in the Buffet Car.
Eftpos is not available
Items may change, depending on availability. If you have any questions or need assistance,
please ask your Car Steward.
Drinks
Coffee, tea, hot chocolate $2.00
Flat white, cappuccino, mocha (sachet) $3.00
Nippy's iced chocolate / coffee $3.00
Coke, coke no sugar, sprite, sprite no sugar $2.00
Bottled water $2.00
Ginger beer, ginger ale $2.00
Juice $2.00
Food
Sandwiches $5.00
Sandwich & 'soup of the trip $6.00
'soup of the trip'& crackers $3.00
Bacon & egg slice $4.00
Muffins $2.00
Slices $3.00
Shortbread $1.00
Chippies $2.00
Cookies $3.00
Cheese/crackers $4.00
Chocolate bar $2.00
BEVERAGES
The time of this service will be announced (11am)
Alcohol MUST NOT be taken off the train.  No BYO
Items may change, depending on availability.
CIDER
Apple Cider 4% $5.00
BEER
DB Draught 4% $5.00
DB Export Citrus Low Alcohol (2%) $5.00
DB Export Gold (4%) $5.00
Tui (4%) $5.00
Steinlager Pure Light (2.5%) $5.00
Heineken (5%) $7.00
RTD
Gin and Tonic $7.00
Woodstock $7.00
Vodka Cruiser $7.00
Mudshake $7.00
WINE
White Chardonnay, Sauvignon Blanc, Pinot Gris $7.00
Red Merlot, Pinot Noir $7.00
Sparkling Lindauer, Rosé $7.00
SOUVENIRS: Please listen to the announcements as to when and where the souvenirs will be available for sale.
| | |
| --- | --- |
| When: | Sunday 18th September 2022 |
| Departs Palmerston North: | 8.45 am |
| Arrives Napier: | 12.45pm |
| Departs Napier: | 4.00 pm |
| Arrives Palmerston North: | 8.00 pm |
| Phone Enquiries: | 06 3235444 |
| Email Enquiries: | rod@steamrail.org.nz |
Face masks to be worn at all times except while seated.
You must read and understand the terms and conditions.  Click here to view them.
If this trip does not work for you then join our friends email list.  Please add your email to our list by clicking here..   We will send you an email each time a new trip is ready to be booked.
If you are unable to book online, drop into the Woodville, Masterton, Wanganui, Hawera, Stratford's i-SITEs or Dannevirke, Feilding 's Info Centres and they can book you there.  An additional booking fee applies.
Tickets will be emailed the Friday before the trip.  Make sure your email address is correctly entered.
Once you book you will get an automatic reply.  If you do not get a reply within an hour check your SPAM folder first, if you still can not find the pending booking email and then rebook.  Your tickets will be Emailed to your email address so ensure it is correctly entered.
Bookings
Bookings are closed for this event.