Around the Block 4 – To Wellington 2022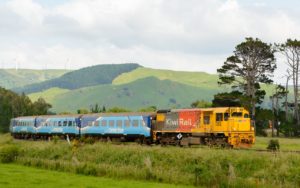 Join us on Saturday 10th December 2022 on a diesel-hauled excursion 'around the block', from Feilding via the Wairarapa to Wellington, returning to Feilding via the Main Trunk.
Our journey starts at Feilding and our first stop is at Palmerston North before travelling through the magnificent Manawatu Gorge.
At Woodville we turn on the balloon loop and head out onto the open plains of northern Wairarapa. Passing the Fonterra dairy milk plant at Pahiatua we proceed to Eketahuna for a short stop.
Watch as the windmill turbines turn lazily in the sun as our carriages head towards Masterton. We pass Carterton and Greytown, then we enter the famous Rimutaka Tunnel.   Emerging at Maymorn we proceed through Upper Hutt and the Hutt Valley and on to Wellington for an hour and a half.
Then it's "All Aboard" as our train speeds past the western suburbs of Porirua and on to Paraparaumu.  From Otaki we gallop through the Horowhenua and back to Palmerston North and finally Feilding.
Our train will be licensed, allowing you a glass or wine or beer on the return journey. No BYO. We will also have a small range of food for sale on the train.
ON BOARD MENU
Food and drinks are available in the Buffet Car.
Eftpos is not available
Items may change, depending on availability. If you have any questions or need assistance,
please ask your Car Steward.
Drinks
Coffee, tea, hot chocolate $2.00
Flat white, cappuccino, mocha (sachet) $3.00
Nippy's iced chocolate / coffee $3.00
Coke, coke no sugar, sprite, sprite no sugar $2.00
Bottled water $2.00
Ginger beer, ginger ale $2.00
Juice $2.00
Food
Sandwiches $5.00
Sandwich & 'soup of the trip $6.00
'soup of the trip'& crackers $3.00
Bacon & egg slice $4.00
Muffins $2.00
Slices $3.00
Shortbread $1.00
Chippies $2.00
Cookies $3.00
Cheese/crackers $4.00
Chocolate bar $2.00
BEVERAGES
The time of this service will be announced (11am)
Alcohol MUST NOT be taken off the train.
Items may change, depending on availability.
CIDER
Apple Cider 4% $5.00
BEER
DB Draught 4% $5.00
DB Export Citrus Low Alcohol (2%) $5.00
DB Export Gold (4%) $5.00
Tui (4%) $5.00
Steinlager Pure Light (2.5%) $5.00
Heineken (5%) $7.00
RTD
Gin and Tonic $7.00
Woodstock $7.00
Vodka Cruiser $7.00
Mudshake $7.00
WINE
White Chardonnay, Sauvignon Blanc, Pinot Gris $7.00
Red Merlot, Pinot Noir $7.00
Sparkling Lindauer, Rosé $7.00
All of the above items are subject to availability and change.
PLEASE NOTE: – Time of this service will be announced at 11am. Alcohol must NOT to be taken off the train.  No BYO.
SOUVENIRS: Please listen to the announcements as to when and where the souvenirs will be available for sale.
The trip will be hauled by a KiwiRail diesel locomotive.
| | |
| --- | --- |
| When | Saturday 10th December |
| Depart Feilding | 8.20 am |
| Depart Palmerston North | 9.25 am |
| Woodville | 10.40 am – Turn on the balloon  loop |
|  Arrive Wellington |  2.45 pm |
| Depart Wellington: | 4.30 pm |
| Arrive Palmerston North | 6.55 pm |
| Arrive Feilding | 7.30 pm |
For additional information Phone  06 3235444  or Email Rod@steamrail.org.nz
You must read and understand the terms and conditions.  Click here to view them.
If this trip does not work for you then join our friends email list.  Please add your email to our list by clicking here..   We will send you an email each time a new trip is ready to be booked.
If you are unable to book online, drop into the Woodville, Masterton, Wanganui, Hawera, Stratford's i-SITEs or Dannevirke, Feilding 's Info Centres and they can book you there.  An additional booking fee applies.
Tickets will be emailed the Friday before the trip.  Make sure your email address is correctly entered.
Once you book you will get an automatic reply.  If you do not get a reply within an hour check your SPAM folder first, if you still can not find the pending booking email and then rebook.  Your tickets will be Emailed to your email address so ensure it is correctly entered.
Bookings
Bookings are closed for this event.