Taihape Spring Fling 2021
 
Taihape Spring Fling Cancelled

Join us on our Spring Fling train trip to Taihape. On our diesel hauled train you will see the rugged landscapes of the Rangitikei as your journey takes you over massive viaducts and through the Mangaweka tunnel on its way to the Taihape township
At Taihape is the Spring Fling, "An event designed to celebrate the new season, showcase New Zealand's ruralness and awaken the spring in your step."  Dress in your best Spring headgear or your decorated gumboots to go into a prize draw. Join the frivolity with the pet competition, gumboot throwing, gumboot art and gumboot pancakes. Enjoy our Baby Animal Fair, entertainment, and our Markets where you can buy arts and crafts as well as home baking. Dine at one of our great cafés or enjoy the Tastes of Taihape at the Cultural Food stalls.
Our train will be licensed, allowing you a glass or wine or beer on the return journey. No BYO. We will also have a small range of food for sale onboard. The train will be hauled by a KiwiRail diesel locomotive.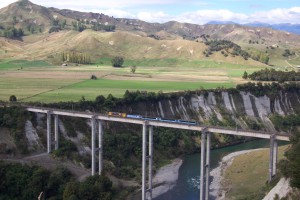 South Rangitikei Viaduct
Tour 1 Taihape Town Tour
Get a window into the local life of a rural town often only valued for its great coffees and loos. The back streets are filled with stories of the past. present and future. You will hear about some of the 20 buildings of grandeur and structures of significance on a minibus with a competent driver and a knowledgeable guide.
For example, you will visit the rail turntable and hear about the way it was reinstalled in Taihape, visit the anchor commemorating HMS Achilles, admire the grandeur of the 1924 built Grandstand, pass the controversial 10 year old Taihape Area School which recently made news because it requires a rebuild, then up to the iconic corrugated iron gumboot for a photo shoot, past the grand Majestic Theatre to mention just a few and return to the Railway Station. 30-minute tours
Tour 2 Garden Tour to Gordon Colliers
This renowned gardener and plantsman is still at the top of his game and not about to hang up his shears. Returning to Taihape after a lifetime of giving his everything to the gardens he is developing yet another on the outskirts of town and has offered his new site for those interested in his expertise and with an interest in how to start from a blank canvas. After a 35 year tenure, Titoki Point Gardens attract more than 5000 visitors a year. He then moved to Taupo and developed another garden called Anacapri which recently was awarded six stars from the New Zealand Gardens Trust. Gordon has written articles for lifestyle magazines, speeches and several books and was made a member of the New Zealand Order of Merit. Taihape is blessed to have his gardening passion and expertise just up the road and privileged to share it with those with a real love of flora.  30-minute tour
ON BOARD MENU
Food and drinks are available in the Buffet Car.
Tea, coffee, hot chocolate, water and cookies are available at the opposite end of the train
to the Buffet Car during the early part of the trip. Check with your Car Steward.
Cash is preferred as Eftpos is not always available
Items may change, depending on availability. If you have any questions or need assistance,
please ask your Car Steward.
FOOD
Sandwiches $4.00
Bacon and Egg Slice $3.00
Muffins $2.00
Slices $3.00
Chippies $2.00
Cookies $3.00
Chocolate Bars $2.00
Cheese/Crackers $3.00
DRINKS Coffee, Tea, Hot Chocolate $2.00
Flat White (Sachet) $3.00
Cappuccino (Sachet) $3.00
Nippy's Iced Chocolate $3.00
Nippy"s Iced Coffee $3.00
Coke, Coke No Sugar, Sprite, Sprite No Sugar $2.00
Bottled Water $2.00
Ginger Beer, Ginger Ale $2.00
BEVERAGES
The time of this service will be announced (11am)
Alcohol MUST NOT be taken off the train.
Items may change, depending on availability.
CIDER
Apple Cider 4% $5.00
BEER
DB Draught 4% $5.00
DB Export Citrus Low Alcohol (2%) $5.00
DB Export Gold (4%) $5.00
Tui (4%) $5.00
Steinlager Pure Light (2.5%) $5.00
Heineken (5%) $7.00
RTD
Gin and Tonic $7.00
Woodstock $7.00
Vodka Cruiser $7.00
Mudshake $7.00
WINE
White Chardonnay, Sauvignon Blanc, Pinot Gris $7.00
Red Merlot, Pinot Noir $7.00
Sparkling Lindauer, Rosé $7.00
All of the above items are subject to availability and change.
PLEASE NOTE: – Time of this service will be announced at 11am. Alcohol must NOT to be taken off the train.  No BYO.
SOUVENIRS: Available at the bar before the bar opens and also on the platform at the destination.
| | |
| --- | --- |
| When |  Saturday 18th September 2021 |
| Depart Feilding | 9.15 am |
| Depart Marton | 9.45 am |
|  Arrive Taihape | 11.50 am |
| | Attend fair, go for lunch, or take bus tours. |
| Depart Taihape | 3.30 pm |
| Arrive Marton | 6.00 pm |
| Arrive Feilding | 6.30 pm |
For additional information Phone  06 3235444  or Email Rod@steamrail.org.nz
You must read and understand the terms and conditions.  Click here to view them.
If this trip does not work for you then join our friends email list.  Please add your email to our list by clicking here..   We will send you an email each time a new trip is ready to be booked.
If you are unable to book online, drop into the Woodville, Masterton, Wanganui, Hawera, Stratford's i-SITEs or Dannevirke, Feilding 's Info Centres and they can book you there.  An additional booking fee applies.
Tickets will be emailed the Friday before the trip.  Ensure your email address is correctly entered.
Once you book you will get an automatic reply.  If you do not get a reply within an hour check your SPAM folder first, if you still can not find the pending booking email then rebook.  Your tickets will be emailed to your email address so ensure it is correctly entered.
The trip will be hauled by a KiwiRail diesel locomotive.
This trip is cancelled.
Bookings
Bookings are closed for this event.